Vietnamese food is very distinct and tasty. It's usually eaten fresh, taken from the garden straight to the table. Understanding on how it is being prepared is the best way to enjoy its taste and ingredients. Get ready to be amazed by our skills in creating new and unique flavors from fresh local ingredients. Our cooking class guide will explain the importance of each vegetable and herb and on how to combine and mix the ingredients. The cooking class guide will discuss the importance of the combination of sweet, salty and sour flavors to achieve a healthy balance for your body and taste buds.
There are two options for cooking class, one with a visit to Tra Que organic vegetable farm and market or skip the Tra Que Organic Farm and just visit the market. However, for any option our cooking class guide will meet you in the hotel lobby and take you to Tra Que organic farm village and local market in Hoi An town depending on the option you have chosen. The tour opens an opportunity for you to experience the sounds, smells, colors and energy of a typical daily Vietnamese market and vegetable farms. Together with our guide, you select the ingredients for your cooking class.
The cooking class workshop which will be held at Red Bean dining area will conclude with you eating the meal you prepared and cooked by yourself.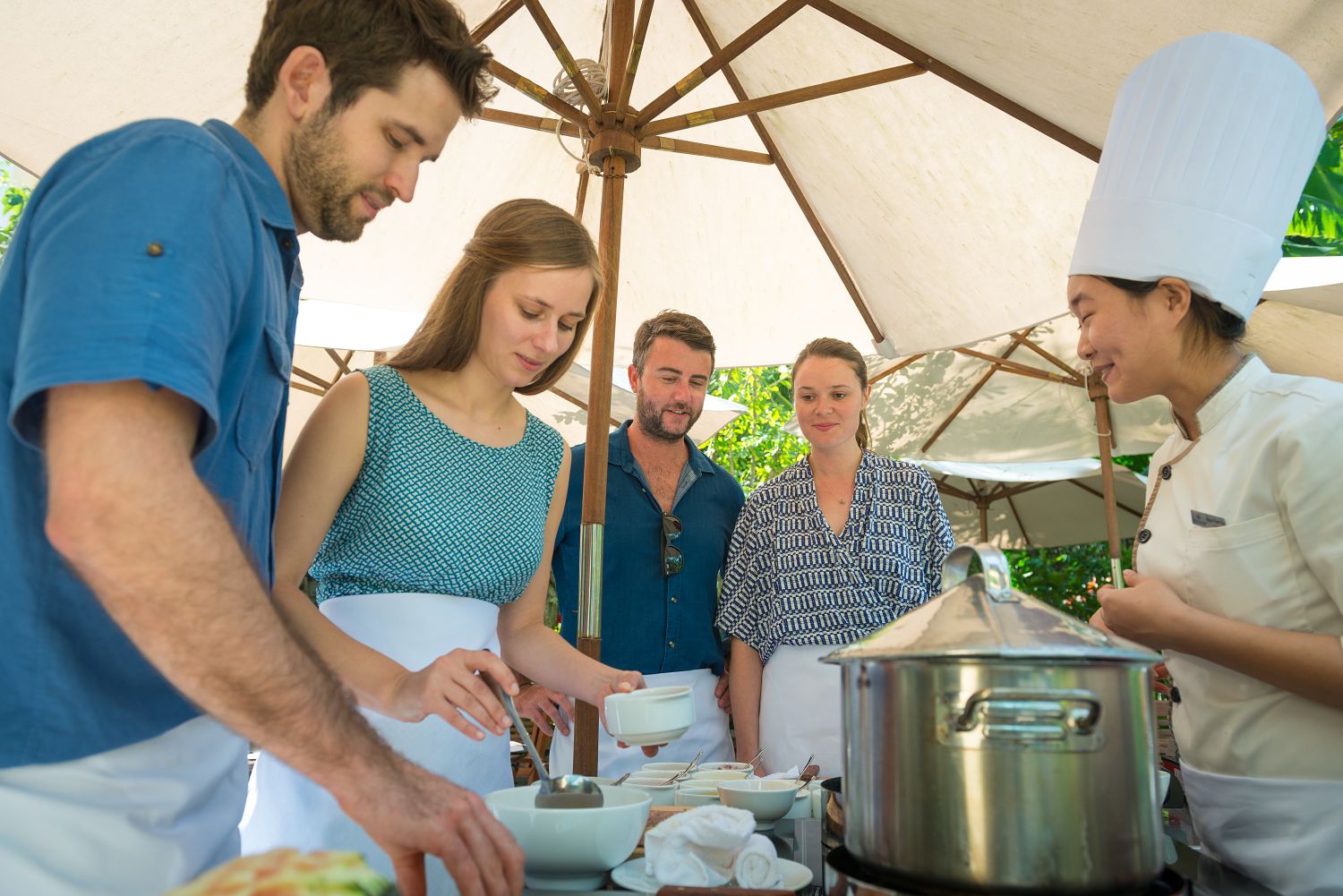 MENU
Fresh Spring Rolls – Popularly known as Goi Cuon, it's a traditional Vietnamese dish consist of pork, shrimp, rice vermicelli ,vegetables and Tra Que herbs wrapped in rice paper or known as banh trang accompanied with pickle and served with sweet and sour fish sauce.  It's one of the quintessential food in Vietnam.
Hanoi Beef Noodle Soup – A Traditional Vietnamese Beef Noodle Soup known as Pho Bo which was popularized on the streets of Hanoi.   It is simply made with leftover bones and scraps cooked in broth.  Pho Hanoi is delicious yet inexpensive and is often crowned the best Vietnamese food.   The popularity of the dish spread as the number of street food vendors rose in response to Hanoi's colonial urbanization.   Pho shops showed up around 1925 in Nam Dinh Hanoi and soon after that pho could be found throughout Vietnam. 
Hoi An Pancake – Known as Banh Xeo it is designed after the sizzling noise this pancake makes when fried. Banh Xeo remains one of the most popular dishes in Central and Southern Vietnam. The pancake is flavored with turmeric, pork, shrimp, bean sprouts and green beans served together with a sweet and sour fish dipping sauce. 
Grilled Marinated Local Fish Banana Leaf – Banana leaf has been used for centuries to wrap while the fish is being grilled.  This is to ensure that the moisture and flavors of the fish remains.  We pick a popular fish marinate it with spice paste then wrap in banana leaves.  We also use a selection of local herbs, bitter banana, star fruit, fish sauce and sea salt for an exquisite Hoi An dish.
Banana Flambe – An oriental favorite, Southeast Asian banana is a really common street snacks in Vietnam usually ripe and comes in small or short sizes. It has a sweeter taste and more fragrant smell than your common banana.  It is being peeled and flambéed with honey and cinnamon.
For Gluten FREE and other requirements, we have Vegetarian options. 
VEGETARIAN MENU
Vegetarian Fresh Spring roll
Vegetarian Hoian Pan cake
Vegetarian Braised Eggplant in clay pot
Vegetarian Pho Noodle
Vegetarian Banana Flambe
In addition, Kindly be informed that we could flexibly change dishes according to your requirements as below:
Green mango with mushroom & tofu
Vegetarian Grilled eggplant
Vegetarian Rice noodles soup
Sweet & sour soft tofu
PRICE
CHOOSE YOUR CLASS AS FOLLOWING:
( People at minimum to arrange the class : 2 )
Class 1
Vnd690.000/ person
Visit Tra Que herb village
Visit local market and cook in the restaurant
Class 2 & 3
Vnd525.000/ person
Visit local market & cook in the restaurant
PRIVATE CLASS
Class 1 : VND1.380.000/person (Visit Tra Que herb village – Visit local market and cook in the restaurant)
Class 2 & 3: VND1.050.000/person ( Visit local market & cook in the restaurant)
CHILDREN POLICY
Over 12 years old: Adult price,
Under 12 years old ( From 5 – 11 years old) : 50% charge per child
PRICE INCLUDES:
Includes the guidance and expert instruction from our chef, English speaking market guide, market tour and market fees, cook-ing lesson concluded with lunch or dinner.
All guests will receive detailed recipe cards and a gift to take home at the end of the class.
PAYMENT AND AMENDMENT
Full advanced payment is required
Any cancellation made 01 day prior, 50% of total class fee will be charged.
Any cancellation made on the same date of service or no-show, 100% of total class fee will be charged.