𝐄𝐍𝐉𝐎𝐘 𝐓𝐇𝐄 𝐓𝐀𝐒𝐓𝐄 𝐎𝐅 𝐂𝐇𝐑𝐈𝐒𝐓𝐌𝐀𝐒 𝐖𝐈𝐓𝐇 𝐑𝐄𝐃 𝐁𝐄𝐀𝐍
𝐂𝐡𝐫𝐢𝐬𝐭𝐦𝐚𝐬 𝐒𝐞𝐭 𝐌𝐞𝐧𝐮 | 𝐈𝐧𝐜𝐥𝐮𝐝𝐞𝐝 𝟏 𝐆𝐥𝐚𝐬𝐬 𝐨𝐟 𝐰𝐢𝐧𝐞 𝐨𝐫 𝟏 𝐁𝐞𝐞𝐫 𝐨𝐫 𝟏 𝐒𝐨𝐟𝐭 𝐝𝐫𝐢𝐧𝐤𝐬
𝐀 𝐋𝐢𝐯𝐞 𝐆𝐮𝐢𝐭𝐚𝐫 𝐏𝐞𝐫𝐟𝐨𝐫𝐦𝐚𝐧𝐜𝐞
Instead of wishing a Merry Christmas, Holly Jolly Christmas at Red Bean brings the classic melodies of the bustling Christmas song, embellishing the full emotional level with the warm aroma of bold dishes. Away from the hustle and bustle of the city, there's nothing better than enjoying a peaceful holiday season with romantic music and delicious food.
Delicious food, flavorful drinks and lyrical music are all set up, come play with Red Bean !
𝐓𝐢𝐦𝐞: 𝐒𝐮𝐧𝐝𝐚𝐲, 𝟐𝟒𝐭𝐡 𝐃𝐞𝐜𝐞𝐦𝐛𝐞𝐫 𝟐𝟎𝟐𝟑 | 𝐅𝐫𝐨𝐦 𝟔:𝟎𝟎 𝐏𝐌
𝐏𝐫𝐢𝐜𝐞: 𝐕𝐍𝐃𝟗𝟎𝟎.𝟎𝟎𝟎/𝐏𝐞𝐫𝐬𝐨𝐧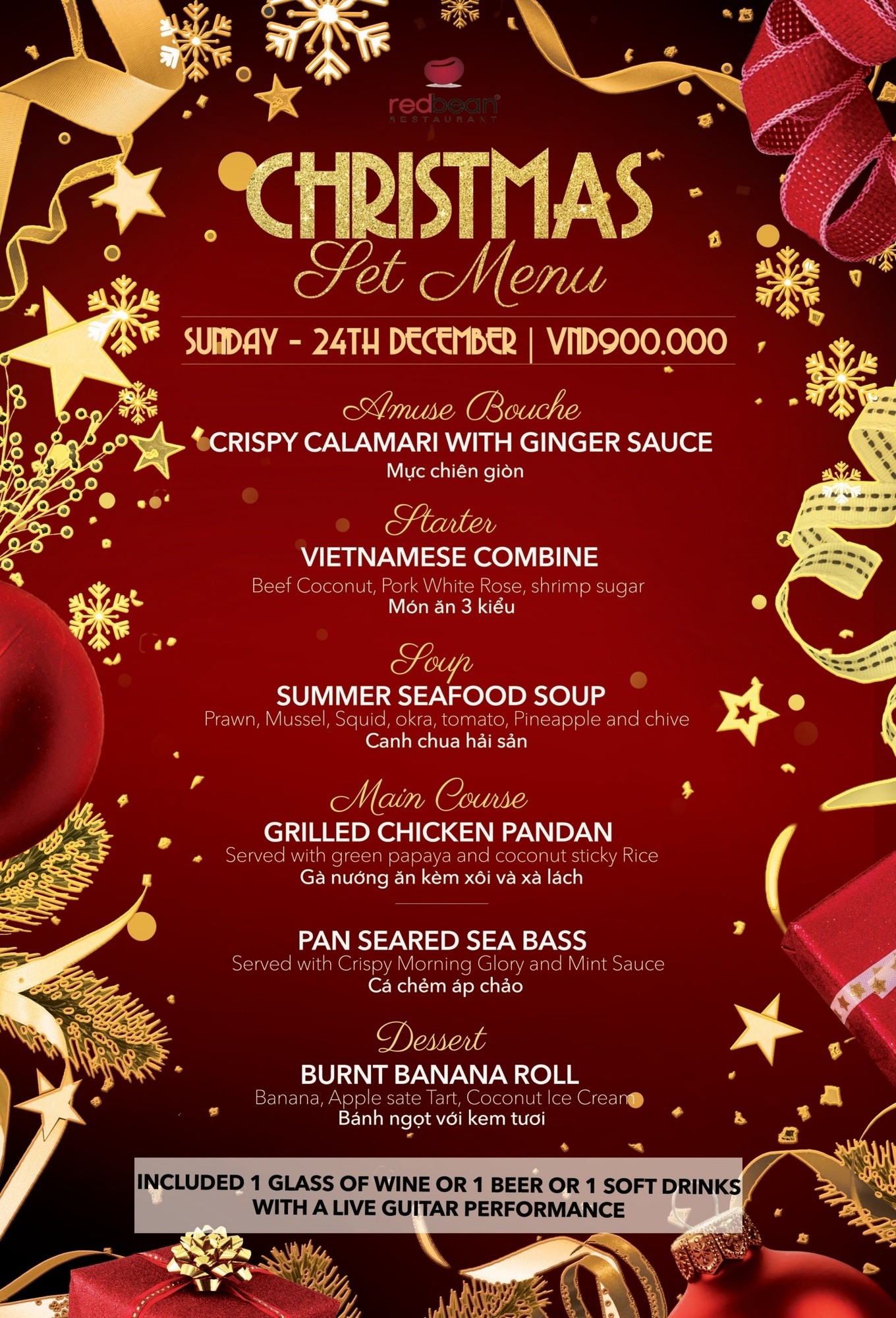 Red Bean Hoi An